Carolyn Ives Gilman wrote the following essay for Tangent magazine early in her career, in 1994. It has not been altered except for an update at the end.
---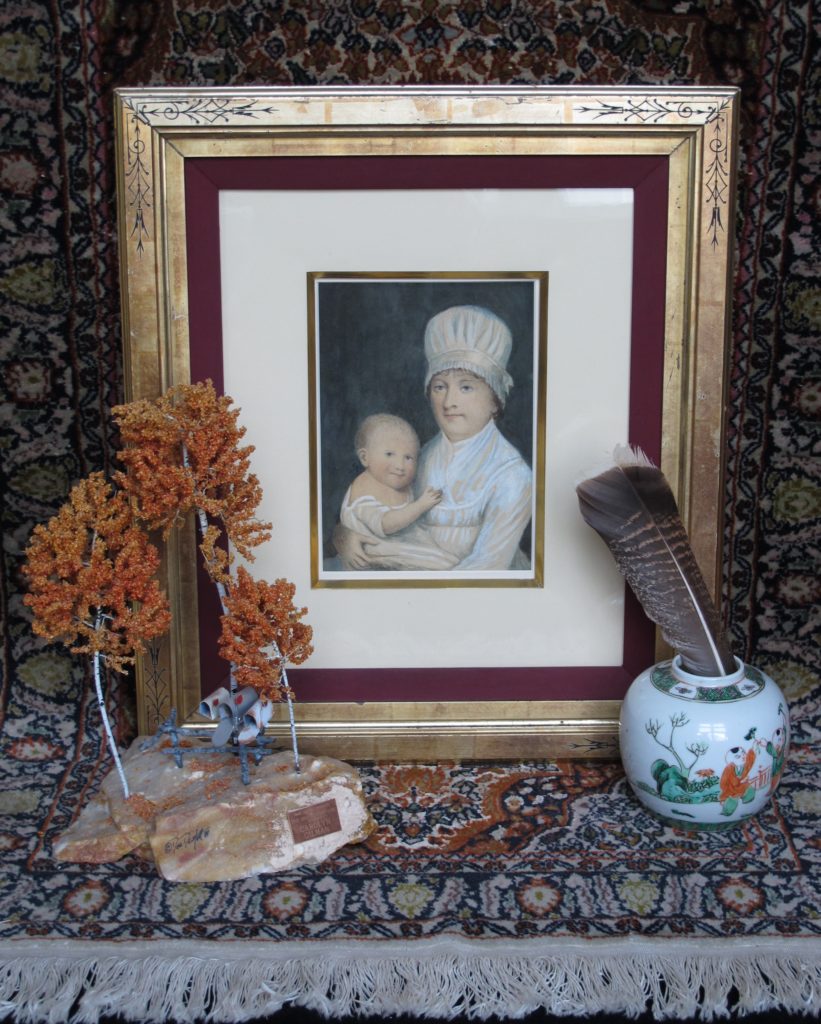 I virtually grew up in a museum. Some of my earliest memories are of gloomy shelves crowded with crumbling volumes of newspapers as big as I was, of sorting out Civil War cannonballs wrapped in yellowed paper, and staring entranced at WPA-made dioramas showing grotesque scenes of carnage and havoc from history. My mother worked at the museum, and later I did, too. I got to know the creaking dumbwaiters in the wall, the secret door into an underground tunnel, and the circular wrought-iron stair to the attic where you could see the remains of an abandoned greenhouse. More than once I followed the ancient, palsied librarian down to "Level A," which was always kept locked behind a wire-mesh cage, and where the truly odd things in the collection were kept.
I still earn my living at a museum, though not the same one. If authors have other professions the way two-timing husbands have other women, museum work is my fling–often jilted, always ready to take me back and make me solvent again. Museums are congenial to a writer–havens of crazed eccentrics, institutional lore, and half-forgotten icons. A museum staff is united by only one thing: love for the collections.
I am not sure other people feel this empathy for inanimate objects. It has nothing to do with materialism, since we touch priceless things every day and quickly get inoculated to the thrill of monetary value. It has more to do with the memories artifacts evoke: the associations, reminiscences, old animosities and disappointments. Artifacts are stories.
Here, then (since my assignment was to talk about myself) is an exhibition of artifacts that have something to do with who I am:
On the wall over there is a portrait of six-greats-grandmother Hannah, one of my Quaker ancestors. She is wearing white and holding a baby in her arms. The baby is smirking, but Hannah has a level-headed, no-nonsense gaze I recognize from other women in my family. She is one of the long line of do-gooders and well-intentioned people I come from. I used to think I had no ethnicity, but actually I come from that invisible ethnic group, the midwestern Yankee. We are people who feel an earnest responsibility to change the world, whether it needs changing or not.
In the bookcase is the clock of my grandfather, who gave up the life of a New York tycoon banker to become a social worker. While busy assimilating immigrants to Yankee liberalism he met and married my grandmother, a Progressive moralist who terrorized her family with mandatory sit-down Sunday breakfasts of codfish balls and popovers, and even terrorized Hollywood into giving us the movie rating system, for which I'm sure we're all grateful. My grandparents died penniless, but to the end of their days they ate off faded Wedgewood and Tiffany silver, and he addressed his family in the plain language of the Quakers–"thee" and "thou."
There is a box of photos taken by my father, who died of disappointment and alcohol in 1978. He trained to be a physicist, but never got his degree. In the 1950s and '60s he worked on cosmic ray experiments and outer space balloons. He used to bring home silver mylar from balloon skins for my sister and I to play with, and took us out at night to see Echo, his balloon, drift through the stars, a shining point of light. He was the one who had the collection of Heinlein, Sturgeon, and Hoyle I virtually ignored (put off by the weird abstract covers) till I was in my 20s. He died just a few years too soon for two inventions that would have changed his life–Prozac and personal computers.
My mother, who is a Quaker Buddhist leftist radical, feels that it's reprehensible for me to prize family objects. We're supposed to let go of material things, particularly bourgeois things, if we are to achieve (a) The Spirit (b) Samadhi (c) solidarity with the oppressed of the world (choose one). I listen to her with the tuneout I perfected as a child, when she used to drag me, whining, to Vietnam War protests where we always got cold and wet.
These people are all a part of me; and yet I'm not a Quaker (at least not deliberately; what I am inadvertently I'm not responsible for), nor am I a do-gooder, nor a radical, even though I could say "military-industrial complex" while I was still on Dr. Seuss. I am, in fact, the most normal member of my family. Unlike them, I don't think Western civilization is in imminent danger of collapse. This annoys them a great deal.
So, on to the more modern things in my collection. On the floor you will see the rug I bought in a murky, mud-brick house in Leh, Ladakh. It was 1986, one of the years when I traveled anywhere I could–Cairo, Athens, Vienna, you name it–in search of the exotic. I thought for sure I'd found it in Ladakh; the only way into the country was via a two-day jeep ride across the Zoji-La Pass on the India-Tibet border. Imagine a one-lane dirt road threading across Himalayan cliff faces with Buddhist monasteries perched above, the wreck of the last truck that didn't make the curve on the slope below. Imagine waking each morning to the sound of priests chanting, and the flap of prayer flags. The rug seller was a turbaned Kashmiri who fed me tea and cakes, introduced me to his family, told me how ruinous the rug business was, and asked for $1,000. I offered $200. He consulted his brother in Urdu, then whipped out his carbon-paper forms and said, "Visa or Master Card?"
There is the toy buffalo given to me by a co-worker during a project to create an exhibit on the history of the Hidatsa Indians of North Dakota. The scene was different here: the windy expanses of the northern Great Plains, cut through by the dramatic tiers and breaks of the Missouri River Valley. I slept in a tipi in sight of the spot where Lewis and Clark met Sacagawea, and learned from an archaeologist how to cook spuds in a campfire. My host on the Fort Berthold Reservation (which you find by going to the edge of nowhere and then driving four hours) was a tall, majestic, hilariously droll Hidatsa man in long black braids, who managed a buffalo herd for the Park Service. For four years I came out to the "rez" every summer to gather interviews. During the winter I tracked down Hidatsa history and artifacts in alien places like the National Archives and the American Museum of Natural History, where they keep the artifacts imprisoned in cells behind steel doors fitted with nozzles for the fumigation gas. Each gas-chamber door is marked with the name of a tribe–"Cheyenne," "Sioux," "Navajo," and so on. My exhibit went to the Smithsonian, the AMNH, and various places around the Midwest. It was one of many I have done.
There is the shelf of books I've written. Only one (Halfway Human, 1998) is science fiction. The rest of my full-length publications are nonfiction, mostly the history of the fur trade and Indians of the upper midwest and Canada. One (The Grand Portage Story, 1992) took me to another reservation, this time on the desolate north shore of Lake Superior, where as recently as the 1920s the rites of the Wabenowin, Midewiwin, and Jessakid were practiced, and they still talk of bear sorcerers with respect.
Moving back in time, you will notice on the desk the sword-in-the-stone letter opener someone gave me when the theatrical company I organized and operated from age 12 to 19 produced a home-written adaptation of T.H. White's book. The theater business introduced me to English literature via George Bernard Shaw, Christopher Fry, Gilbert and Sullivan, and of course Shakespeare. We also recklessly dramatized portions of the Mabinogion, The Thirteen Clocks, and the life of Akhenaton. At age 16 I probably became the first person in the world to write an operetta based on Peter Beagle's The Last Unicorn. My troupe included dope users, born-again Christians, hoodlums, preachers' kids, rock musicians, new age mystics, and just about any other type of teenager you could name. The only ones we absolutely excluded were adults.
I keep things from the many places I've lived. Though I think of Minnesota as home, I have also lived in Stirling, Scotland; Williamsburg, Virginia (a spooky place where they all think they've been reincarnated into the 20th century by some awful bureaucratic mistake); and an island in northernmost Wisconsin. I was once marooned for a year in Moscow, Idaho, hired for a job that evaporated into the soft-money mists as soon as I got there. For the past few years I have lived in St. Louis, a Janus-headed town–one face black, the other white, and since they're facing opposite directions neither has a clue what the other looks like. Two blocks north of my apartment is a wasteland of boarded-up tenements; two blocks south are Victorian mansions on private streets fitted with gates and security guards.
I have published a shelf full of short fiction by now, in places like Fantasy and Science Fiction, Bending the Landscape, Realms of Fantasy, Universe, Full Spectrum, Interzone, and Writers of the Future. My fiction ranges over the map from near-mainstream to fantasy to SF. Since I was raised on historical romance (Dumas, Stevenson, Kipling, Shellabarger, Yerby, Costain) I do love a good plot, and usually have to restrain myself from putting in too much. Despite my restraint, my latest novel, just completed, weighs in at 1,000 pages. It is a history-flavored fantasy about the invasion of a "primitive" country by a colonial army, who of course encounter more than they bargained for.
I would continue this tour and answer some of your questions, but my mother just called to say that my sister is in jail for protesting at a nuclear power plant. These things happen in a family with an overdeveloped social conscience. Can anyone tell me what kind of greeting card would be appropriate to send?
---
What I did not know in 1994:
That my mother would spend her retirement founding the Green Party of Minnesota and running for lieutenant governor on the Green ticket. When she died in 2018, the Greens used the opportunity to canvass for signatures at her memorial service. She would have approved.
That it would become my job to retrace the steps of Lewis and Clark and track down all the surviving specimens, documents, and artifacts from their expedition, in order to assemble them into an exhibit. It took me seven years, which is twice as long as it took them to make the expedition in the first place.
That life would attempt to stop me from writing more novels and stories. It would lose.
That I would move to Washington, DC, to work at the Smithsonian Institution, a place that offers its staff the perk of frequent government shutdowns in which to write novels.
That I would rethink my stand on Western civilization. Now I believe it is, in fact, in danger of collapse. My family say, "I told you so."